Easy Meals for Beginner Pescatarians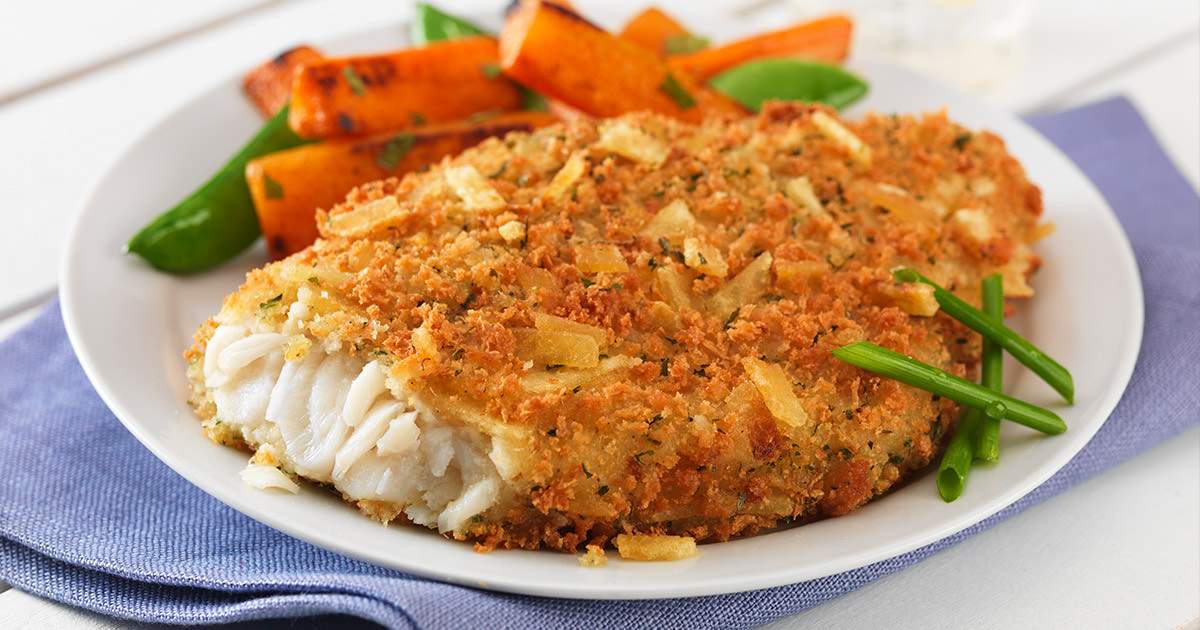 When Cam Newton, quarterback for the Carolina Panthers, became a pescatarian in 2013, his experiment seemed to usher in a series of history-making wins for the Panthers. Team nutritionists -- noting the concentration of heart-health Omega-3 fatty acids present in many sea creatures -- looked for ways to put seafood on the table, during training as well as game season. Just like that, the entire team was introduced to the pescatarian diet -- a seafood-loving spin on vegetarianism. If football players can go pescatarian, so can you, and we've made it easy. Check out our top five easy pescatarian meals for beginner pescatarians.


What are the nutritional benefits of being a pescatarian?

Since the pescatarian diet is actually a version of vegetarianism, pescatarians by default consume more vegetables, and less animal fat, than their meat-eating counterparts. This means that, on average, pescatarians get more nutrients with fewer fat and calories than meat-eaters. Moreover, by consuming plenty of seafood, pescatarians get plenty of Omega-3s, as well as protein, zinc, B12, and vitamin D. Seafood is a very versatile food, so pescatarians need not feel deprived of flavor in their search for health.


5 Easy Pescatarian Meals for Beginners

We've pulled together five easy pescatarian meals for beginners that explore delicious seafood flavors, yet are simple to prepare.
Tilapia Tacos*
*Note: If you like, you can make these tacos using fresh tuna instead of tilapia.
Equipment:
Medium saucepan
Small bowl
Ingredients:
1 fresh tilapia fillet
1 handful fresh cabbage, sliced into thin strips
6 cherry tomatoes, cut in half
1 large carrot, grated
½ avocado, diced
2 tortillas
1 Tbsp olive oil
2 tsp chili powder
Salt and pepper to taste
For the tartar sauce:
1 Tbsp sweet relish
½ lime, juiced
4 Tbsp mayonnaise
Steps:
Prepare the tilapia by rinsing it in cold water. Blot dry with a paper towel. Sprinkle both sides of the tilapia with salt, pepper, and chili powder. Set aside.
Add the olive oil to the saucepan and heat over medium heat. When the oil is hot, add the tilapia.
Cook the tilapia over medium heat until it is white and flaky (about two minutes per side).
While the fish is cooking, prepare the tartar sauce. In the small bowl, combine the mayonnaise, relish, and lime juice, with salt and pepper to taste.
When the tilapia is finished cooking, remove it from the pan and set aside.
Prepare the tortillas by sauteing them in olive oil until crispy (about one minute per side).
Serve the tilapia with the tortillas and tartar sauce. Enjoy!


Salmon Cakes with Avocado Dip
Equipment:
Large bowl
Small bowl
Large plate
Large saucepan
Ingredients:
14 oz fresh salmon
1 egg
¼ cup shredded cheddar cheese
½ cup sour cream
1 small onion, minced
2 Tbsp fresh parsley, chopped
1 avocado
½ cup bread crumbs
3 Tbsp brown rice flour
3 Tbsp butter
2 Tbsp olive oil
1 Tbsp lime juice
½ tsp black pepper, halved
¼ tsp garlic salt
Steps:
In the large bowl, combine the salmon, egg, cheese, onion, parsley, bread crumbs, and pepper. Stir your "dough" until evenly mixed.
Section the "dough" into fourths. Shape each section into a circular patty.
Dust each patty with brown rice flour. Place on the large plate and chill for 20 minutes.
After the patties have chilled, place the butter and olive oil in the saucepan and heat over medium heat until the butter is melted.
When the butter is melted, add the salmon patties. Cook over medium heat until brown on each side (about five minutes on each side).
When the salmon cakes are finished, remove from heat.
Make the avocado dip by mashing together the avocado, sour cream, seasonings, and lime juice in the small bowl.
Serve the salmon cakes hot with a dollop of avocado sauce.


Ceviche*
*Note: If you want to serve your ceviche chilled, prepare this recipe the day before you want to serve it.
Equipment:
Large pot for boiling the shrimp
Large bowl
Martini glasses for serving
Ingredients:
1 ½ cups fresh shrimp
1 orange, peeled and thinly sliced
¼ cup cilantro
1 avocado
¼ cup lime juice
½ cup coconut water
1 ½ Tbsp soy sauce
1 tsp Sriracha
Steps:
Peel and devein the shrimp. (Here's how.)
Fill the pot halfway full with water and heat to a boil. Add the shrimp and cook for one minute. Remove from heat, drain, and set aside.
In the bowl, combine the lime juice, coconut water, soy sauce, Sriracha, orange, and cilantro. This is your marinade.
Add the shrimp to the marinade. If you want to chill the ceviche, refrigerate it for several hours. If you want to serve it warm, there's no need to wait!
To serve ceviche, simply drain the excess liquid from the shrimp.
Top with avocado and serve in a martini glass for extra flair.
Baked Salmon with Blueberries
Equipment:
Medium pot
Large baking dish
Ingredients:
10 ounce fresh salmon fillet
½ yellow onion, diced
1 cup white wine
1 ½ Tbsp white wine vinegar
1 cinnamon stick
1 cup blueberries
2 Tbsp butter
1 Tbsp honey
4 cups mixed greens
Steps:
Preheat the oven to 400 degrees Fahrenheit.
Sprinkle the salmon with salt. Set aside.
In the pot, combine the white wine, onion, vinegar, and cinnamon. Bring to a simmer over low heat. Simmer until most of the liquid evaporates (about 10 minutes).
Add the blueberries, honey, and butter. Cook on low heat until the blueberries turn dark pink (about five minutes). Remove and set aside.
In the baking dish, arrange the salmon. Top the salmon with the blueberry mixture. Bake until the salmon is cooked completely (about eight minutes).
Serve with fresh greens and enjoy!
Crab Soup
Equipment:
Large saucepan
Double boiler
Whisk
Ingredients:
1 pound fresh crab
1 medium onion, chopped
Fresh parsley (garnish)
2 tsp all-purpose flour
1 quart whole milk
2 cups half-and-half
3 Tbsp butter, halved
1 bottle white wine
? tsp white pepper
? tsp ground mace
1 Tbsp salt
In the saucepan
Melt 1 ½ tablespoon of the butter over low heat. Add the onion.
Saute over low heat until the onion is softened (about three minutes). Remove from heat and set aside.
In the double boiler:
Fill the bottom double boiler pan with one inch of water. Bring to a boil, then reduce to a simmer.
Assemble the double boiler, placing the top pan over the bottom one.
In the top double boiler pan, add the remaining butter. Simmer until melted.
Whisk in the flour.
Stir in the onion and milk, stirring constantly. When blended, add the crabmeat, pepper, and mace.
Cook 20 minutes.
Stir in the half-and-half. Remove from heat and stir in the salt and ½ cup of the wine.
Serve hot, with the remaining white wine!

FultonFishMarket.com delivers fresh, sustainably-sourced seafood straight to your door. Check out our selection, and plan a delicious pescatarian menu tonight