Cooking Fresh and Frozen Shrimp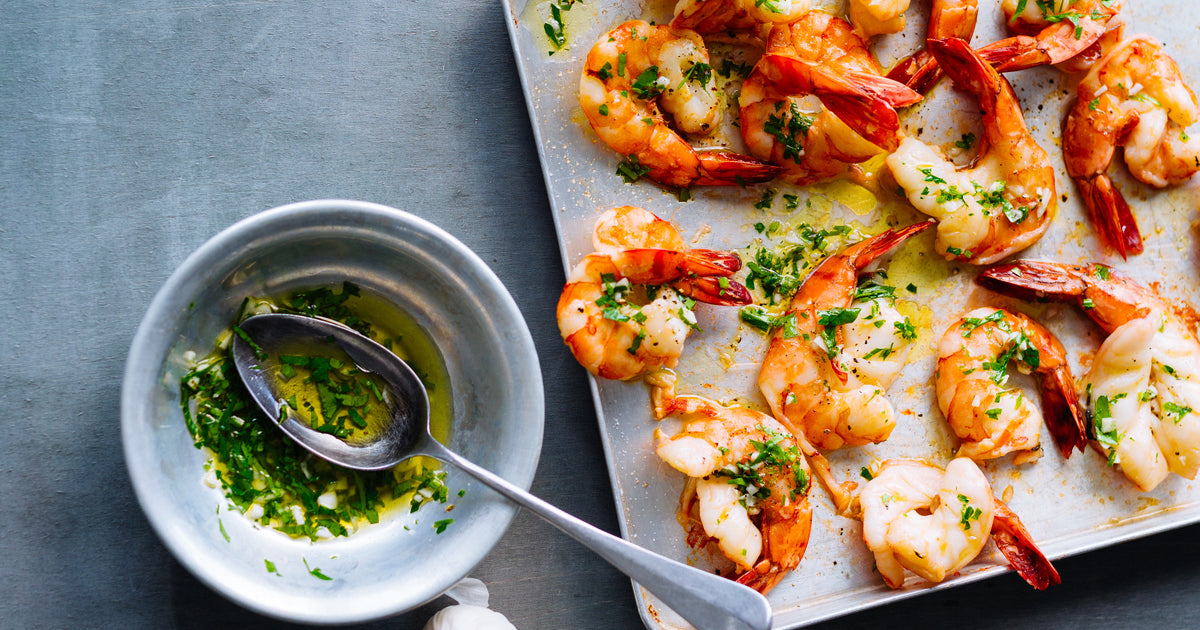 Did you know that Americans consume more than 650 million pounds of shrimp each year -- 2.5 pounds per every man, woman, and child? We've pulled together some tasty recipes for fresh and thawed shrimp, shrimp nutrition information, and pro tips on how to cook shrimp from experts who love shrimp.


Shrimp Nutrition Information

Shrimp is a type of shellfish low in calories and high in certain nutrients. A 3-ounce (85-gram) serving of shrimp contains:
Calories: 84
Protein: 18 grams
Vitamin B12: 21 percent Recommended Daily Allowance (RDI)
Iron: 15 percent RDI
Niacin: 11 percent RDI
Zinc: 9 percent RDI
Magnesium: 7 percent RDI
Selenium: 48 percent RDI
Phosphorus: 12 percent RDI


Fresh Vs. Frozen Shrimp - What's the Difference?

FultonFishMarket.com carries fresh shrimp as well as frozen shrimp. Our fresh shrimp is sustainably harvested and shipped immediately to your door, following protocol to retain freshness during shipping. Our frozen shrimp are kept frozen on-site until it is purchased for delivery. Whether fresh or frozen, our shrimp is produced and handled sustainably to retain the highest-quality flavor and consistency. Since the process of freezing and thawing causes shrimp to retain, then thaw, excess water, this can affect the shrimp's texture unless you prepare the shrimp properly. We've provided a few easy-to-follow instructions for how to cook fresh and frozen shrimp below.


How to Cook Fresh or Frozen Shrimp - Pro Tips
Here are our pro tips on how to cook fresh or frozen shrimp:
Special Tips for Frozen Shrimp:
To thaw frozen shrimp, first place a strainer atop a large bowl. Place the frozen shrimp in the strainer and refrigerate. This setup allows the shrimp to thaw without being submerged, which protects the shrimp's texture.
After the shrimp thaw completely, sauté them quickly on high heat for two minutes without stirring. Then, stir quickly and cook for another minute. Remove from heat and set aside; now the shrimp are ready for your recipe. This method releases frozen shrimp's flavor and juices.
Tips for Fresh or Frozen Shrimp:
Whether fresh or frozen, place the shrimp immediately in the fridge or freezer when it arrives at your house.
Consume fresh or thawed shrimp within two days, since seafood spoils faster than other types of meat.
To devein shrimp, use a paring knife to make a slit longways along the back of the shrimp. Run the shrimp under running water and use your finger to remove the "vein" (the shrimp's digestive tract, which is black in color). You can devein before or after cooking, but if you don't want your guests to devein the shrimp themselves, unshell the shrimp and devein before cooking.
Peeled or unpeeled? It depends on your recipe. If you're using hot, dry cooking methods like baking or grilling, leave the shells on to retain flavor and moisture. We've included peeled and unpeeled options in the recipes below.
Keep the shells! Shrimp shells are loaded with flavor and can be used to make broths and other bases.
Recipes for Fresh and Thawed Shrimp

The following recipes work well for fresh or frozen shrimp. If you use frozen shrimp, be sure to follow the guidelines above on proper thawing and cooking.


Spicy Pan-Roasted Shrimp
Equipment:
Two small bowls
Large skillet
Slotted spoon
Ingredients:
1 ¾ pounds large fresh shrimp in the shell (or about 1 ½ pounds frozen, cleaned shrimp, thawed)
¼ cup thinly-sliced scallions
2 teaspoons Dijon-style mustard
4 teaspoons Worcestershire sauce
3 Tablespoons fresh squeezed lemon juice
6 Tablespoons cold butter
3 Tablespoons chicken broth
1 teaspoon cayenne
½ teaspoon ground cumin
1 teaspoon chili powder
1 teaspoon dried thyme
Salt and pepper to taste
Steps:
Peel and devein the shrimp. Set aside.
In one of the small bowls, combine the mustard, Worcestershire sauce, lemon juice, cayenne, cumin, chili powder, and thyme. Set aside.
Heat the large skillet over medium-high heat. Add three tablespoons of the butter. When almost melted, add the broth, shrimp, salt, and pepper.
Cook the shrimp mixture until the shrimp are half-cooked (about two minutes).
Stir in the mustard mixture. Cook until fully cooked (about three minutes; the shrimp will be white throughout when cooked completely). Remove from heat.
Use the slotted spoon to remove the shrimp and place in the second small bowl.
Cut the remaining butter into small pieces.
Reheat the skillet over medium-high heat. When the liquid is simmering, sprinkle the butter pieces over the surface of the liquid. Then, swirl the skillet so that the butter is absorbed. Turn off the heat.
Grind in a generous amount of black pepper and add salt to taste.
Stir in the scallions and shrimp, but do not cook further.
Serve hot! 


Shrimp Scampi Bake
Equipment:
Small saucepan
Shallow baking dish
Ingredients:
2 pounds medium-sized fresh shrimp, shelled (with tails left attached), deveined
1 Tablespoon chopped garlic
1 Tablespoon chopped fresh parsley
2 Tablespoons prepared Dijon-style mustard
1 Tablespoon fresh lemon juice
1 cup butter
Steps:
Preheat the oven to 450 degrees Fahrenheit.
Heat the small saucepan over medium heat and combine the mustard, lemon juice, butter, garlic, and parsley. When the butter melts completely, remove from heat and set aside.
Place the shrimp in the baking dish, and pour the butter mixture over the shrimp.
Bake at 450 degrees until the shrimp are opaque and pink (about 12 to 15 minutes).
Serve and enjoy!
Cajun Shrimp Gumbo
Equipment:
Medium-sized skillet
Large saucepan
Ingredients:
1 pound fresh shrimp, peeled and deveined
1 cup skinless, boneless chicken breasts, chopped
½ pound pork sausage links, thinly sliced
1 sweet onion, sliced
2 Tablespoons minced garlic
6 stalks celery, diced
4 plum tomatoes, diced
10-ounce can diced tomatoes with green chile peppers, with liquid
1 bunch fresh parsley, chopped
2 Tablespoons chopped fresh red chile peppers
1 cup all-purpose flour
3 quarts chicken broth
12-ounce can or bottle beer
Olive oil, separated into 3 Tablespoons and 1 cup
¼ cup Cajun seasoning
Steps:
In the medium-sized skillet, heat three tablespoons of the olive oil over medium-high heat. Add the chicken. Cook until the chicken is white throughout.
Stir in the sausage. Cook until the sausage is evenly browned.
Remove from heat. Then, drain the chicken-sausage mixture and set aside.
In the large saucepan, prepare the roux mixture by heating 1 cup olive oil over medium-heat. Immediately add the flour. Cook the mixture, stirring constantly, until it is browned and bubbly. Then, stir in the garlic. Cook for about one minute.
Gradually stir in the chicken broth and beer to the roux mixture. When the mixture is well-combined, bring it to a boil.
Add the celery, onion, tomatoes, peppers, parsley, and seasoning.
Reduce heat to medium-low and simmer 40 minutes, stirring frequently.
Add the sausage-chicken mixture and the shrimp. Cook 20 minutes, stirring frequently.
Serve and enjoy!


Margarita Grilled Shrimp
Equipment:
Large bowl
Plastic wrap
Skewers
Grill, with oil for the grill grate
Ingredients:
1 pound fresh shrimp, peeled and deveined
3 Tablespoons olive oil
3 Tablespoons chopped fresh cilantro
2 Tablespoons fresh lime juice
2 cloves garlic, minced
Bottle of tequila, with 2 teaspoons portioned out
¼ teaspoon cayenne pepper
¼ teaspoon salt
4 bamboo skewers, soaked in water for 20 minutes
Steps:
In the bowl, prepare the margarita marinade by stirring together the shrimp, cilantro, garlic, lime juice, olive oil, cayenne pepper, salt, and two teaspoons of tequila. Cover with the plastic wrap and refrigerate for at least 30 minutes.
Prepare the grill by lightly oiling the grate. Then, preheat the grill to high heat.
When the grill is hot, remove the shrimp from the marinade mixture and place on skewers.
Place on the grill and drizzle the remaining margarita marinade over the shrimp.
Grill the shrimp until they turn pink, about three minutes per side.
Serve with tequila shots!


Bacon-Wrapped Broiled Shrimp
Equipment:
Toothpicks
Large jelly roll baking pan
Heavy-duty tin foil
Ingredients:
16 large fresh shrimp, peeled and deveined
8 slices bacon
Barbeque seasoning, to taste
Steps:
Preheat the oven to 450 degrees Fahrenheit.
Cut each strip of bacon in half long-ways.
Wrap each shrimp with a bacon slice, securing with a toothpick. Set aside.
Line the baking pan with the foil. Then, place the baking rack in the pan. This setup allows you to catch the bacon fat in the pan without submerging the shrimp. The aluminum lining makes clean-up a breeze; just remove after cooking and recycle.
Place the shrimp skewers on the baking rack. Then, sprinkle each side of each skewer with seasoning.
Bake until the bacon is crisp and the shrimp are tender (about 10 to 15 minutes).
When the skewers are finished baking, remove them from the baking pan.
Serve and enjoy!