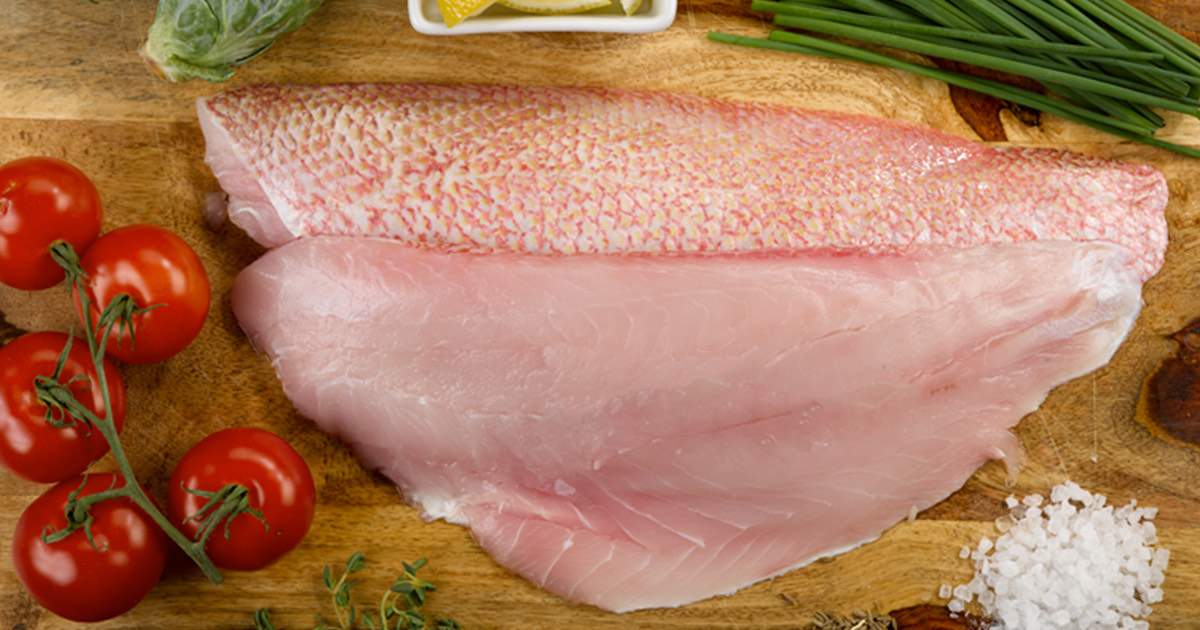 With Springtime approaching, cooking Red Snapper on the grill just sounds so tasty and fresh! The appeal is both exotic and culinary, conjuring images of relaxed seaside parties centered on grilling Snapper with friends, a glass of wine in hand, the ocean in the background. Red Snapper is aptly named, featuring vibrant pink and red skin and an impressive set of teeth. Today's Fishmonger Blog post is all about Red Snapper, including nutrition information and practical grilling tips, like how to grill Red Snapper fillets with skin.


Red Snapper Flavor Profile and Nutrition Information

Red Snapper has a soft, tender flesh that is pinkish in tone. While most market varieties weigh around two pounds, Red Snapper in the wild can grow up to 50 pounds and live to be up to 60 years old! This breed of fish boasts a nutrition profile low in calories and high in Omega-3 fatty acids. And, when you cook Red Snapper, it has a mild, sweet, nutty flavor and moist, firm texture. Red Snapper is a versatile fish which lends itself well to a variety of cooking techniques, including grilling Snapper.


Red Snapper Nutrition Information

Red snapper is an excellent source of protein and Omega-3 fatty acids, known to promote heart health. This nutritional information is for one 6-ounce serving of Red Snapper (uncooked):
171 calories
35 g protein
2.2 g fat
0.5 g Saturated fat
110 mg sodium
63 mg cholesterol
7 g Omega-3 fatty acid
How to Grill Whole Red Snapper & Fillets with Skin

Red Snapper's striking appearance makes it a perfect option for grilling the whole fish, although you can also grill Red Snapper fillets. Leaving the skin on makes the fish easier to grill, and helps to keep the fish moist. Whether you're cooking fillets, or a whole fish, check out the following step-by-step instructions for grilled Red Snapper, then be sure to try our other grilled Red Snapper recipes. When you order Red Snapper through FultonFishMarket.com, you can also opt to have the fish descaled and/or filleted to order. It's time to put some Red Snapper on the grill!
Equipment
A grill
A spatula or tongs to handle fish
Ingredients:
Whole Red Snapper, descaled, butterflied, or if you are grilling Red Snapper fillets, select fillets with the skin on, descaled.
2 Tbsp olive oil
Salt and pepper for seasoning
½ lemon, juiced
Steps:
Preheat your grill to medium heat.
Season the Red Snapper with the salt, pepper, and lemon juice. 
Place the fish on the gril, and cook the skinned side until the meat is opaque (about four minutes per side).
If you are grilling Red Snapper fillets, simply grill on each side until the meat is opaque (about four minutes per side).
Serve with tropical fruit salsa, or your favorite summer salads, and enjoy!
Our Sustainable Fishing Promise

FultonFishMarket.com carries wild American Red Snapper (genus species Lutjanus campechanus), a species sustainably harvested in compliance with all regulatory requirements. Red Snapper fishing is regulated to retain Snapper stock in the Gulf of Mexico and South Atlantic coasts, which are two of the few locations Snapper thrive in the wild. Given these protections, eating Red Snapper is considered a smart seafood choice by NOAA. 


Purchase Fresh Red Snapper Online at FultonFishMarket.com

Red Snapper is a delicious, nutritious option for adding seafood to your diet. Shop Red Snapper at FultonFishMarket.com. We are proud to provide fresh, sustainably-produced seafood and deliver it right to your door.