Delicious, Nutritious Shrimp Scallop Pasta Recipes
If you're craving shrimp scallop pasta, you're in for a treat that features two of the most versatile seafoods. Scallops offer a delicate, sweet flavor and meaty consistency, while shrimp feature a mild, nutty flavor and firm texture. Both shrimp and scallops carry a wealth of nutrients and very little, if any, dietary guilt. We have gathered nutrition information on both shrimp and scallops, along with a few delicious shrimp scallop pasta recipes to wet your whistle. Shop FultonFishMarket.com for fresh, sustainably produced shrimp and scallops, with delivery right to your door.


Nutrition Information: Shrimp and Scallops


Whether you are cooking shrimp scallop pasta or another seafood recipe, shrimp and scallops add a heavy dose of nutritional value to your meal.


Shrimp Nutrition Information

Shrimp is a high-protein, low-calorie seafood with loads of nutrients. Meanwhile, while a four ounce serving of shrimp contains about 170 mg of cholesterol -- 55 percent of the FDA recommended daily allowance of 300 mg per day, the crustacean is also packed with antioxidant, anti-inflammatory, and heart-healthy properties, thanks to its heavy Selenium content, Omega-3 fatty acids, and a carotenoid called astaxanthin. Astaxanthin guards against inflammation by preventing free radical damage to cells. Studies suggest that astaxanthin may strengthen the arteries and increase "good" HDL cholesterol, mitigating shrimp cholesterol content.
A four-ounce serving of shrimp provides:
Calories: 120
Protein: 23 g (52% Recommended Daily Value (RDV))
Fat: 2 g
Cholesterol: 170 mg (55% RDV)
Selenium: 102% RDV
Vitamin B12: 78% RDV
Phosphorus: 50% RDV


Scallop Nutrition Information

Scallops are also a high-protein, high-nutrient, low-calorie seafood. Scallops are an excellent source of selenium (vital for immune response and thyroid function), zinc (vital for brain functioning), B12 (vital for brain and nervous system functioning), and omega-3 fatty acids (vital for heart health). Although scallops can contain heavy metals that can pose a risk for certain populations (older adults, children, and pregnant or nursing women), otherwise-healthy adults who are not allergic to shellfish should be able to safely consume scallops.

A four-ounce serving of scallops provides:
Calories: 246
Protein: 21 g (52 percent RDV)
Fat: 12 g
Cholesterol: 40 mg (13 percent RDV)
Selenium: 47 percent RDV
Vitamin B12: 73 percent RDV
Phosphorus: 36 percent RDV


Shrimp Scallop Pasta Recipes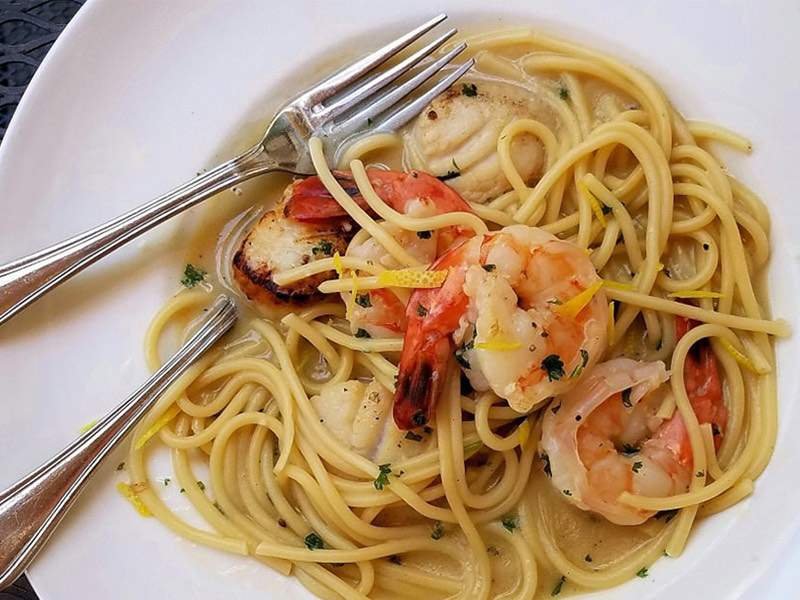 ---
Spicy Shrimp Scallop Pasta with Green Peas
This shrimp scallop pasta recipe features a savory combination of fresh seafood, green peas, and spicy Cayenne pepper. By using olive oil instead of butter, the recipe reduces cholesterol content without sacrificing flavor.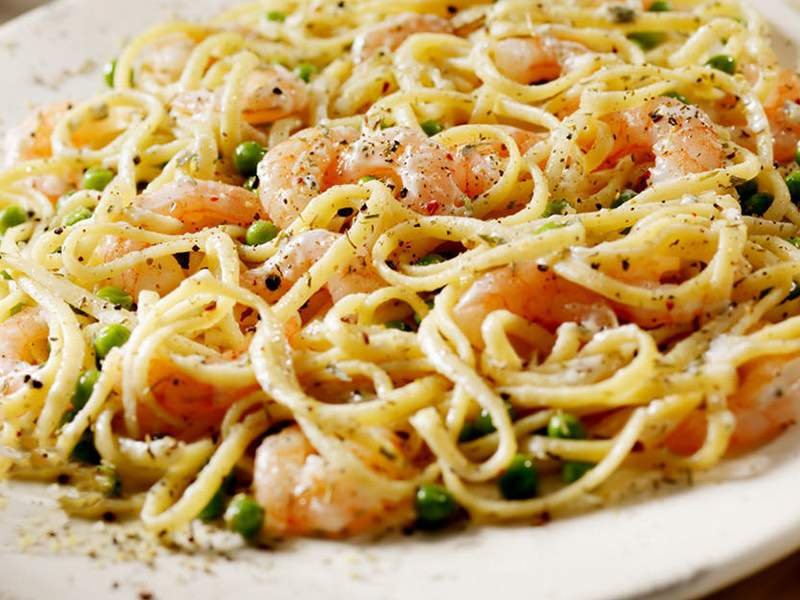 ---
This shrimp scallop pasta recipe brings the robust flavor of Mediterranean-inspired vegetables paired with savory shrimp and scallops. The addition of fresh vegetables enhances the dish's flavor and nutrition value.